S1E14 - Acts - Chap. 15
Join us as we dive into the Book of Acts!
a year ago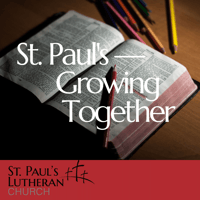 Acts - Chapter 15 (Episode 14)
The Jerusalem Council in Acts 15 is often considered the centerpiece of the Book of Acts. Everything so far has been leading up to the Gospel being shared not just to Jews, but also to Gentiles and now once and for all the question of where Gentiles fit into God's plan of salvation must be answered definitively and so it is.
You can find handouts from our class at https://www.stpaulslutheran.net/bible-study/bible-study
Find out more at https://growingtogether.pinecast.co