S1E16 - Acts - Chapter 17
Join us as we dive into the Book of Acts!
a year ago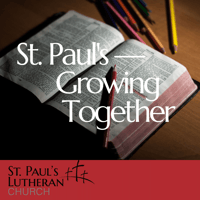 Acts - Chapter 17 (Episode 16)
Paul's Second Missionary Journey is well underway as Paul crosses the sea to speak the Gospel to those in Philippi, Thessalonica and Berea. But Paul's journey doesn't end there. Now Paul is sent from harm's way to the great city of Athens where he encounters a very different audience. But even here Paul questions and challenges the Athenians to open their eyes to the possibility that the God Paul proclaims is real.
You can find handouts from our class at https://www.stpaulslutheran.net/bible-study/bible-study
Find out more at https://growingtogether.pinecast.co