S1E8 - Acts - Chapter 8 (part 2)
Join us as we dive into the Book of Acts!
a year ago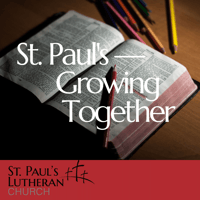 Acts - Chapter 8 (part 2) (Episode 8)
Chapter 8 of Acts contains an evangelism explosion as the Gospel is proclaimed and believed both among the Samaritans and an Ethiopian eunuch. Because there was so much to think over, we ended up spending a second class on chapter 8. In this episode we focus on that second story, but we also revisited Acts 8:16 to clarify what is and isn't going on.
You can find handouts from our class at https://www.stpaulslutheran.net/bible-study/bible-study
Find out more at https://growingtogether.pinecast.co