S1E20 - Acts - Chaps. 21-22
Join us as we dive into the Book of Acts!
a year ago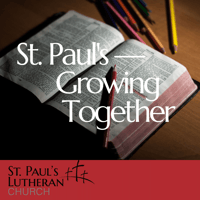 Acts - Chapters 21-22 (Episode 20)
The final section of the Books of Acts is all about Paul's arrest in Jerusalem and the subsequent trials. In this section, we see once again how the opposition against Paul comes from Jews from Asia who stir up the crowds in Jerusalem to destroy Paul, but Paul is saved by the Roman tribune. As all of this goes on, one can't help but note the similarity between what is happening with Paul and Jesus' experience in Jerusalem, but what does that mean?
You can find handouts from our class at https://www.stpaulslutheran.net/bible-study/bible-study
Find out more at https://growingtogether.pinecast.co