S1E6 - Acts - Chaps. 6-7
Join us as we dive into the Book of Acts!
a year ago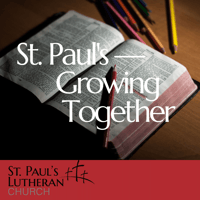 Acts - Chapters 6-7 (Episode 6)
Humanly speaking the focus of Acts 6-7 is this man named Stephen, but Stephen does his utmost to show us how the focus really is on Jesus. Despite every effort of Satan to disrupt the growth of the early church, the martyrdom of Stephen marks a new chapter in the explosion of the Good News of Jesus to all peoples.
You can find handouts from our class at https://www.stpaulslutheran.net/bible-study/bible-study
Find out more at https://growingtogether.pinecast.co