S1E9 - Acts - Chapter 9
Join us as we dive into the Book of Acts!
a year ago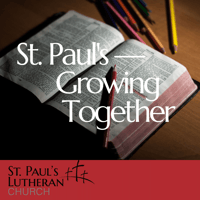 Acts - Chapter 9 (Episode 9)
Acts chapter 9 is all about Saul. Or is it? While Saul (later Paul) becomes one of the important players in the Book of Acts, even here we find the story of Saul's conversion is ultimately a story of Jesus continuing to work in and through the lives of people, even the most staunchly opposed foes, to bring the Gospel to the ends of the earth!
You can find handouts from our class at https://www.stpaulslutheran.net/bible-study/bible-study
Find out more at https://growingtogether.pinecast.co