S1E4 - Acts - Chaps. 3-4
Join us as we dive into the Book of Acts!
a year ago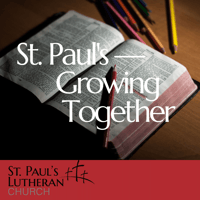 Acts - Chapters 3-4 (Episode 4)
This week as we move through the Book of Acts 3-4 we hear about Peter and John's encounter with a crippled man at the Temple. Together with the healed man we leap with joy as the community of faith continues to grow despite the opposition of Jewish leaders in the Sanhedrin.
You can find handouts from our class at https://www.stpaulslutheran.net/bible-study/bible-study
Find out more at https://growingtogether.pinecast.co