S1E19 - Acts - Chaps. 19-21
Join us as we dive into the Book of Acts!
a year ago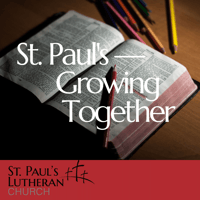 Acts - Chapters 19-21 (Episode 19)
Chapters 19-21 contain a whirlwind of Paul's travels as the Third Missionary Journey comes to an end. As we push to the final section in the Book of Acts that focuses on Paul's arrest in Jerusalem and subsequent trials, we do so after noting Paul's final goodbyes to the churches of Macedonia, Greece and Asia.
You can find handouts from our class at https://www.stpaulslutheran.net/bible-study/bible-study
Find out more at https://growingtogether.pinecast.co