S1E7 - Acts - Chapter 8
Join us as we dive into the Book of Acts!
a year ago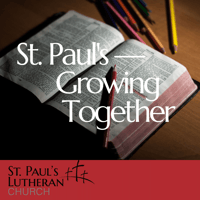 Acts - Chapter 8 (Episode 7)
The Word of the Lord grows in fantastic ways in Acts 8 as persecution pushes the church into new places. The first place we go is to Samaria where we see Philip proclaim the Good News of Jesus to Samaritans. This was a momentous step in the realization that the Gospel was for all people, but it was not without its difficulties! Join us as we struggle through some of those issues.
You can find handouts from our class at https://www.stpaulslutheran.net/bible-study/bible-study
Find out more at https://growingtogether.pinecast.co